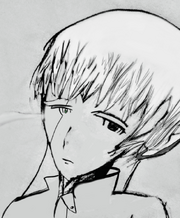 Hi. I'm just an artist on stroll. I check regularly on this wiki as I'm almost addicted to Deep Sea Prisoner's stuff, however, I don't make edits very often. I own a web based series and upcoming video game series, Quantonium. As you can see, I'm a pre-transition transgender male who likes discussing about politics, keeping fit, linguistics other than fictional stuff.
My Accounts
How I got into Funamusea
I found Funamusea through Google Web Search. I thought it had a really large fandom despite being a series hidden in the web. I'm obsessed with killer whales so I searched on anime version of killer whales in Google and found Idate. Idate was my firstly introduced character, I didn't like him at first, but then, I thought he redeemed quite a bit at later projects. Hope he doesn't turn from an abusive character like Ivlis, into an accuse for rape (like Ivlis).
And so, my favourite characters are...
And for character design
I'm neutral on...
I despise...
My favorite pages
Add links to your favorite pages on the wiki here!
Favorite page #2
Favorite page #3
Community content is available under
CC-BY-SA
unless otherwise noted.