---
Please keep in mind that it's strictly forbidden to publically share Ci-en content online, as it's exclusive paid content. Also, please keep in mind that DSP's Ci-en profile is registered as R-18G.
These guidelines may change over time without notice. Please check back on this page from time to time.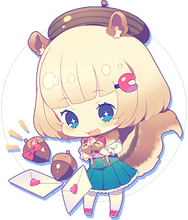 Ci-en is a website similar to Patreon where people can support Japanese content creators. For 100 yen (about US$1.00) a month, subscribers can support Deep-Sea Prisoner. They get to see behind the scenes content and get early access to her projects. There is also a 500 yen tier which has about the same benefits as the 100 yen.
---
Useful links:

A Spanish translation of all these posts can be found here.
As for translations, the first post of a certain month contains a link to a Google Document. In this document you will find translations for every post from that month. The links to all the Ci-en posts with English translations of their respective months can be found here.
---
Community content is available under
CC-BY-SA
unless otherwise noted.